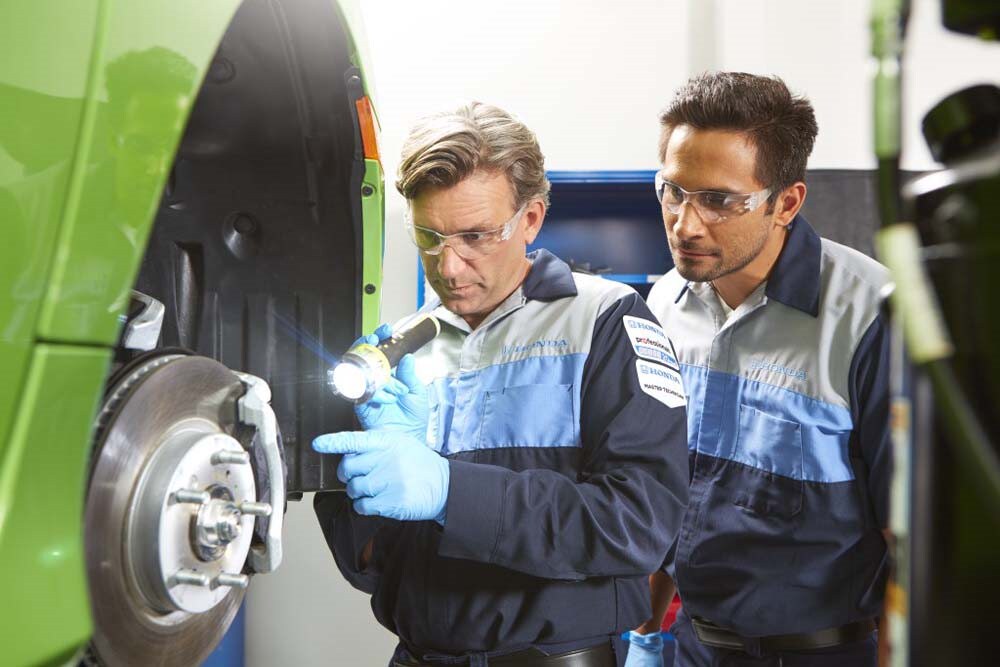 If you find yourself needing Honda repair for your brake system, you'll want to make sure you turn to the experts. Your brakes are one of the most important safety systems in your car, and you'll have nothing to worry about when you choose Heritage Honda Westminster.

Our team of certified Honda technicians is well-versed in handling all sorts of brake repairs and maintenance.
Brake Pad Replacement
Replacing the brake pads is one of the most common types of repairs you can expect. Brake pads often last up to 50,000 miles, but it's important to keep an eye out for signs of wear, at which point you should get them replaced. Some of the biggest indicators your brake pads need to be replaced include hearing screeching sounds or a grinding noise.
Bleeding
While this may sound strange if you're not a car technician, the process of "bleeding" brake lines is important in many brake services. Sometimes, the brake lines can become contaminated with dirt or form air bubbles. In these cases, the lines need to be "bled" of their brake fluid before being replenished with new brake fluid.
Replacing the Calipers
Calipers make up part of the disc brake system and house the brake pads that create friction against the rotors. When calipers malfunction, they can cause the brake pads to get stuck in place. It's typically easy to notice this problem since it creates a troubling grinding sound.
Maintaining Your Brakes
To avoid needing brake repairs, be sure to visit our Honda service center near Owings Mills regularly for brake checks and maintenance, such as brake fluid changes. And if you need new brake parts, we have you covered with a fresh stock of OEM Honda parts always on-hand!
Schedule your service appointment today!