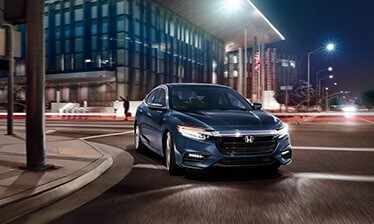 If you're looking for proof that a hybrid car can be exciting, look no further than the Honda Insight. This sleek midsize hybrid sedan offers a perfect combination of style, technology, and power while offering impressive fuel economy.
Our team at Heritage Honda Westminster can show you all the best features of the 2021 Honda Insight, along with how it beats competing models.
Honda Insight vs Toyota Prius
The Toyota Prius is a hybrid sedan that many people often shop for at the same time that they may shop for a Honda Insight. However, there are a few areas where the Toyota Prius simply can't keep up.
One area where the Toyota Prius literally can't keep up with the Honda Insight is performance. The Honda Insight offers a standard 151-horsepower powertrain, while the Toyota Prius only offers 121 horsepower. While both vehicles offer similar fuel-economy ratings, the Honda Insight offers responsive acceleration where the Toyota Prius will leave you feeling underwhelmed.
The Honda Insight is also designed to provide a better experience for passengers. The Toyota Prius only offers 33.4 inches of rear legroom, while the Honda Insight offers 37.4 inches of rear legroom.
Honda Insight vs Hyundai Elantra Hybrid
Another common competitor to the Honda Insight is the Hyundai Elantra Hybrid. And despite being smaller and offering similar fuel-efficiency figures, the Hyundai Elantra Hybrid only offers a 139-horsepower powertrain.
The Honda Insight also offers standard safety systems to help you avoid collisions on the road, such as adaptive cruise control. While this feature is available on the Hyundai Elantra Hybrid, you'll have to add it as an option.
Visit our Honda dealership near Owings Mills today to find the right hybrid car for you!